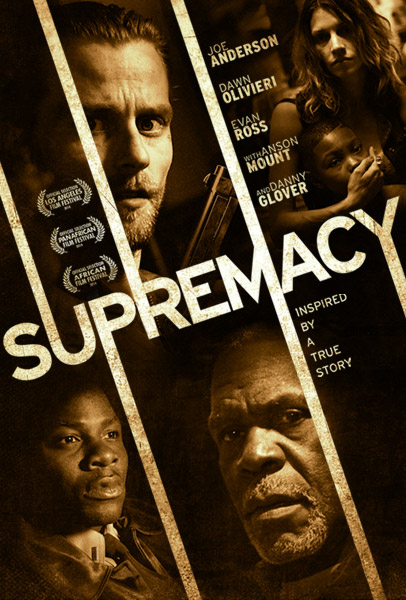 Synopsis
Taut, chilling…
a just-paroled white supremacist and his ruthless girlfriend kill a cop and take an African American family hostage. The patriarch of the family, an ornery ex-con himself, must rely on his wit and understanding of the racist mind to free his family, but not before he must confront his own brand of bigotry and anger. Inspired by a true story.
(IMDB
)
Details
Status: Post Production
Category: Thriller
Writer: Eric J. Adams
Production Company: Hidden Empire Group
Producers: Roxanne Avent, Vincent Cirrincione
C0-Producer: Eric J. Adams
Executive Producers: Aaron L. Gilbert, Robert Smith
Runtime: 110 min
CAST
Starring:
Danny Glover
Anson Mount
Joe Anderson
Dawn Olivieri
Lela Roshon
Julie Benz
Derek Luke
Mahershala Ali
Evan Ross
CREW
Cinematographer: Rodney Taylor
Editor: Richard B. Molina
Casting Director: Mary Vernieu, Venus Kanani
Production Designer: Michael Fitzgerald

Reviews & Awards
"A constantly simmering potboiler."
–Hollywood Reporter
"It's the stuff of nightmarish fiction but the nonfiction source material adds a level of depth to its commentary on racism and race relations in America today." –IndieWire
"A 'Desperate Hours'-style thriller…refreshingly far from the usual movie black and white." –Deadline
"One of the best performances of Glover's career, he is electrifying." –MovieShark
A "tense and deeply effective psychological thriller." –Cinephiled
"You'll be holding your breath awaiting the outcome." –Screen Invasion
"Dawn Olivieri and Danny Glover are at the top of their game in this tense thriller. Scriptwriter Eric J. Adams pushes the pyschological limits of every character…in this this taut work." –Sydney Morning Herald
Stream on Amazon
////////////
Stream on Apple TV
///////////
*Also available on Comcast Xfinity, Time Warner Cable, Verizon, Directv, Cox, Cablevision, Vudu, MGo, Sony Playstation, and Xbox.